Sony X90L: Two-minute review
The Sony XR-X90L is Sony's mid-range TV lineup for 2023, and is sold in screen sizes ranging from 55 up to 98 inches. It features a regular LED backlight with local dimming, and uses the company's high-end Cognitive Processor XR along with its new Clear Image XR tech to upscale and enhance pictures.
Like other Sony TVs, along with several other examples of the best TVs, the X90L uses Google TV as its smart interface. This gives you access to virtually any streaming app you could want and, along with its own Google Assistant, the Sony works with Alexa and Apple Home for smart home control. Google Assistant can be accessed hands-free using the TV's built-in mic or by pressing the mic button on the set's remote control. A unique Sony feature found on the X90L (and the company's other TVs) is Bravia Core, which lets you stream movies from the Sony Pictures library at a quality level that the company claims is on par with physical media.
Picture quality on the X90L is a step up from last year's Sony X90K, with notably higher brightness and better local dimming. These improvements show a benefit with HDR programs in particular, with an increase in contrast that brings enhanced definition to picture highlights and shadows. Upscaling of regular HD images is also very good, while native 4K ones look wonderfully detailed.
The X90L has a basic, but effective onboard sound system, with tweeters located at the screen's left and right sides to augment the sound coming from the TV's bottom-mounted speakers. An Acoustic Center Sync feature lets you use the TV's built-in speakers as a center channel speaker when used with a Sony soundbar, and it also supports a center channel input connection from an AV receiver.
Sony's design for the X90L mates a slim panel with an equally slim screen bezel. The TV's support feet can be elevated to accommodate a soundbar, with the other option being a flush fit of the screen against a TV stand's top surface.
Gaming features include 4K 120Hz, VRR, ALLM, and Dolby Vision gaming support. The X90L is also Perfect for PlayStation 5, with auto HDR tone mapping and an Auto Genre picture mode that both get activated when a PS5 console input is detected. A new feature for 2023 is Sony's Game Menu for quick gaming-related adjustments and the set has two HDMI 2.1 inputs that can be used for connection to next-gen consoles. Rounding out its connections in the US is an antenna input with tuner support for ATSC 3.0 'next-gen' digital broadcasts.
Value for the X90L is very good, especially with recent price cuts on all sizes but the 98-inch model. You could find a budget mini-LED TV such as the Hisense U8K for around the same price that provides higher peak brightness, but the Sony's overall refined performance and features package nonetheless makes it a standout option for its price range.
Sony X90L review: price and release date
Release date: June 7, 2023
From $1,199 / £1,399 / AU$1,895 for the 55-inch versions
Up to $9,999 / £8,999 / AU$10,769 for the 98-inch
The X90L series sits in the middle of the company's LED TV range, slotting in between the X77L and the X93L, a substantially higher-priced series with a mini-LED backlight. With sizes ranging up to 98 inches, the X90L series is home to the largest screen currently offered by Sony.
XR-55X90L: $1,199 / £1,399 / AU$1,895
XR-65X90L: $1,399 / £1,699 / AU$2,395
XR-75X90L: $1,899 / £2,299 / AU$2,995
XR-85X90L: $2,499/ £2,999 / AU$3,995
XR-98X90L: $9,999 / £8,999 / AU$10,769
Prices for X90L series TVs have dropped since they were first released in spring 2023, with the 65-inch model Sony sent us to review now selling for $1,099 in the US and £1,499 in the UK. Prices should drop even lower during the holiday sales season, though no discounts so far have applied to the 98-inch model.
Sony X90L review: specs
Swipe to scroll horizontally
| | |
| --- | --- |
| Screen type: | QLED |
| Refresh rate: | 120Hz |
| HDR support: | Dolby Vision, HDR10, HLG |
| Audio support: | Dolby Atmos |
| Smart TV: | Google TV |
| HDMI ports: | 4 (2 x HDMI 2.1) |
| Built-in tuner: | ATSC 3.0 (US) |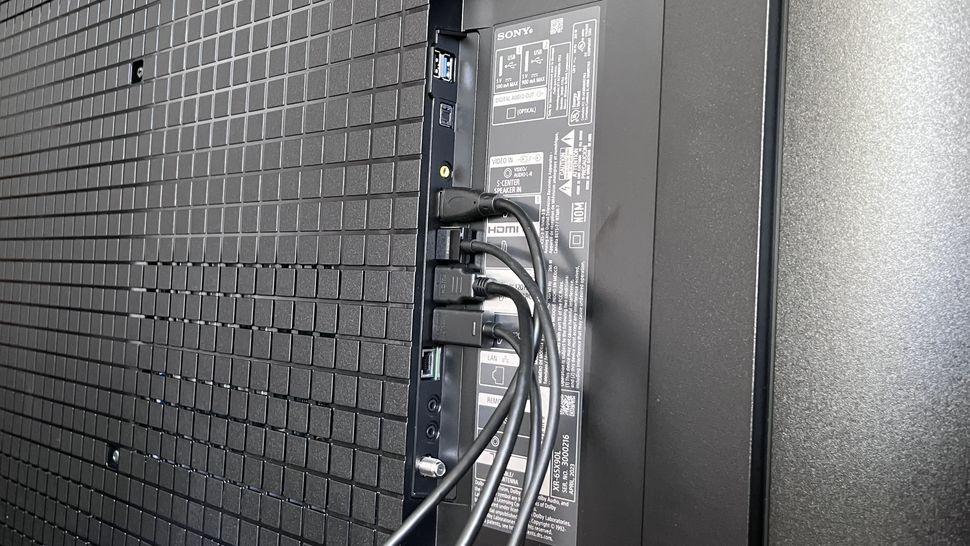 Sony X90L review: features
Regular LED backlight with local dimming
New XR Clear Image upscaling and processing
ATSC 3.0 digital TV tuner in the US
Sony's X90L uses a QLED display (which Sony calls "Triluminous", but it's the same tech) with a regular LED backlight and full-array local dimming. According to the company, 60% more local dimming zones are used on the new TV compared to last year's X90K and it's 30% brighter. The X90L also has the same Cognitive Processor XR found in the company's higher-end TVs such as the Sony A80L, and there's support for Dolby Vision, HDR10, and HLG high dynamic range formats.
Two Sony picture-enhancing features found in X90L TVs are XR Contrast Booster and XR Clear Image. The first is designed to increase brightness and decrease blooming effects from the TV's full-array LED backlight. The second is more of a special sauce-type processing that upscales images to 4K and automatically applies adaptive noise reduction and "super resolution." There are no menu settings to enable, disable, or adjust XR Clear Image, so it's impossible to gauge its effect, though as you'll read in the picture quality section below, the X90L does deliver consistently crisp-looking images.
Like other Sony TVs, the X90L uses the Google TV smart interface for streaming and smart home control. A built-in microphone gives you a hands-free voice control option, and the TV's remote control also features a built-in mic. The X90L works with Alexa and Apple Home and features Sony's Bravia Core movie streaming, which the company says delivers picture quality on par with physical media with an up to 80Mbps data transfer rate. Bravia Core titles come from the Sony Pictures studio library and include the largest available IMAX Enhanced collection, according to the company.
Connections on the X90L include two HDMI 2.1 ports with 4K 120Hz, VRR, and ALLM support for gaming and US models feature an ATSC 3.0 digital TV tuner. A new Game Menu provides quick access to settings such as VRR, blur reduction, and Black Equalizer, and the X90L also supports 4K Dolby Vision gaming.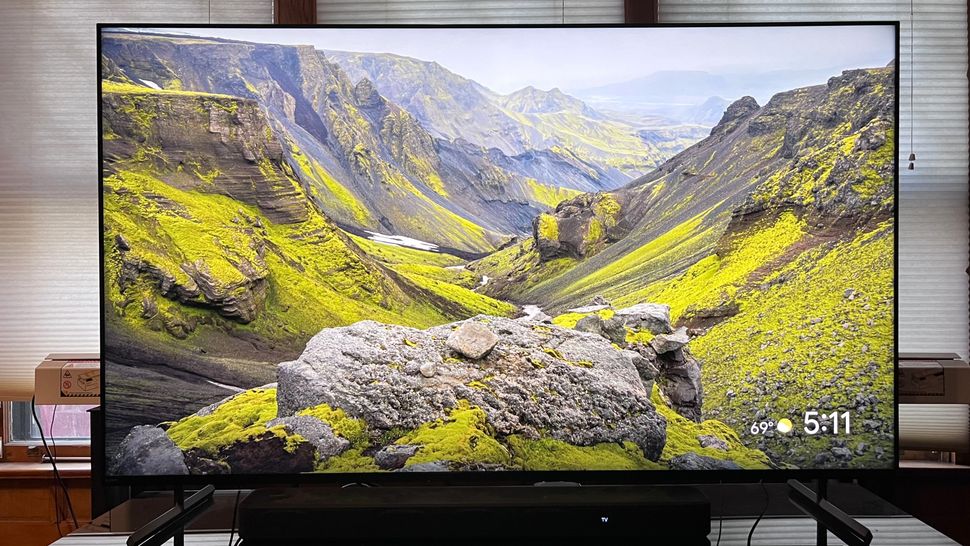 Sony X90L review: picture quality
Improved peak brightness over last year's model
"Infinite" Contrast
Slight backlight blooming
One of the biggest, most obvious upgrades in the Sony X90L is the brightness. The 65-inch version that Sony sent me had a peak HDR brightness of 1,225 nits as measured on a white 10% window test pattern with the TV in its Custom picture mode. That's a notable brightness boost over last year's X90K, which measured 964 nits on the same test.
Peak brightness in the Sony's Movie mode was nearly as good at 1,173 nits with measurements taken from a 10% window pattern, while a 100% white pattern covering the full screen area measured an impressive 645 nits. Those results fall below the high peak brightness measurements we've made of several flagship mini-LED TVs in 2023, but they are excellent for a set with a standard LED backlight and are close to the best OLED TVs for peak HDR brightness, and easily beat OLED TVs for fullscreen brightness.
Measurements made with Portrait Displays' Calman color calibration software showed the XL90's coverage of DCI-P3 (the color space used for mastering 4K movies and digital cinema releases) to be 96.1%, and BT.2020 to be 71.9%. Grayscale Delta E values averaged 2.98 (we typically look for these to fall below 3), and color point Delta E values 1.5. Overall, these are perfectly satisfactory testing results and show that the XL90 is well-equipped to display movies and TV shows with accurate color.
Rounding out my tests, the TV's measured black level on a 0% pattern was 0 nits (ie, totally black), resulting in "infinite" contrast. For all subsequent viewing, the TV's Custom picture mode was used, with both Auto Local Dimming and Peak Luminance set to High, Gamma to 0, and color temperature to Warm.
The Sony lacks an anti-glare screen coating to combat reflections. Even so, screen glare from overhead lights wasn't much of an issue during my daily use. The X90L does lack a wide-angle viewing feature that would improve picture quality for off-center viewing, though the TV's contrast and color saturation did look uniform over a 30 degree viewing arc (which should cover your typical sofa setup).
Starting my viewing with the Spears & Munsil Ultra HD Benchmark Blu-ray, the Sony TV presented a punchy and clean-looking image with crisp highlights and excellent detail. Tough test scenes such as a honey dripper set against a black background showed a mild degree of backlight blooming, but the effect wasn't really noticeable on regular movie and TV images, and the set's performance here was also markedly better than last year's X90K.
The Sony X90L also performed well with movie scenes on 4K Blu-ray that I regularly use for testing. Its impressive motion handling was revealed in an early scene from No Time to Die, with the craggy landscape that James Bond walks across looking mostly solid as a camera panned over it. And in a scene from Dune (2021) where Paul Atreides walks through a dimly lit space following a meeting with the Bene Gesserit Reverend Mother, the picture was noise-free and showed a wide range of shadow detail.
Regular HD-resolution TV shows I streamed on the Sony through its Google TV apps looked impressively clean, the TV's XR Clear Image processing here presumably working its magic. Shows in 4K such as The Bear (on Hulu) looked even better: close-up shots of faces revealed a high level of detail and subtle gradations of color in skin tones, and the whites of the chefs' aprons were similarly packed with fine highlight detail.
Picture quality score: 4.5/5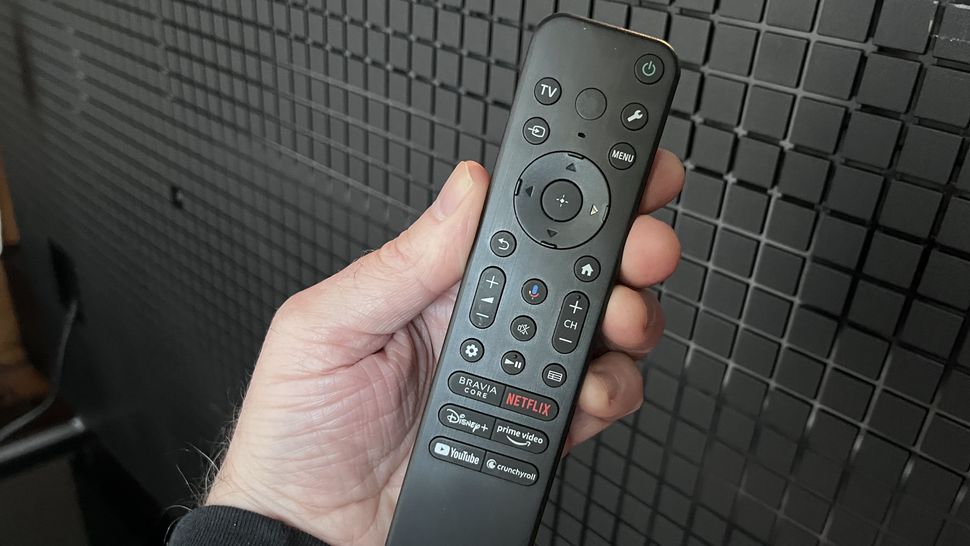 Sony X90L review: sound quality
Sound positioning tweeters
Acoustic Center Sync
Average sound but good dialogue clarity
The Sony's built-in speakers are helped by a pair of "sound positioning" tweeters located at the left and right sides of the TV's screen. These help to elevate dialog and give it a more natural relation to the onscreen image than you'd otherwise get from a TV with downfiring speakers. They also create a more expansive presentation of sound effects in movies, though you won't hear any of the height information in Dolby Atmos soundtracks as you would with a TV or soundbar featuring upfiring speakers.
One feature that expands upon the TV's audio capabilities is Acoustic Center Sync, which lets you use the TV's built-in speakers as a center channel speaker with select Sony soundbars or an AV receiver.
The TV's array of sound modes didn't offer noticeably different performance aside from the speech-enhancing Dialogue mode. Overall, the X90L's sound was good, with clear dialogue and an ability to play fairly loud. It will definitely benefit from the addition of one of the best soundbars, which may be one reason why the TV's support feet allow for such a configuration.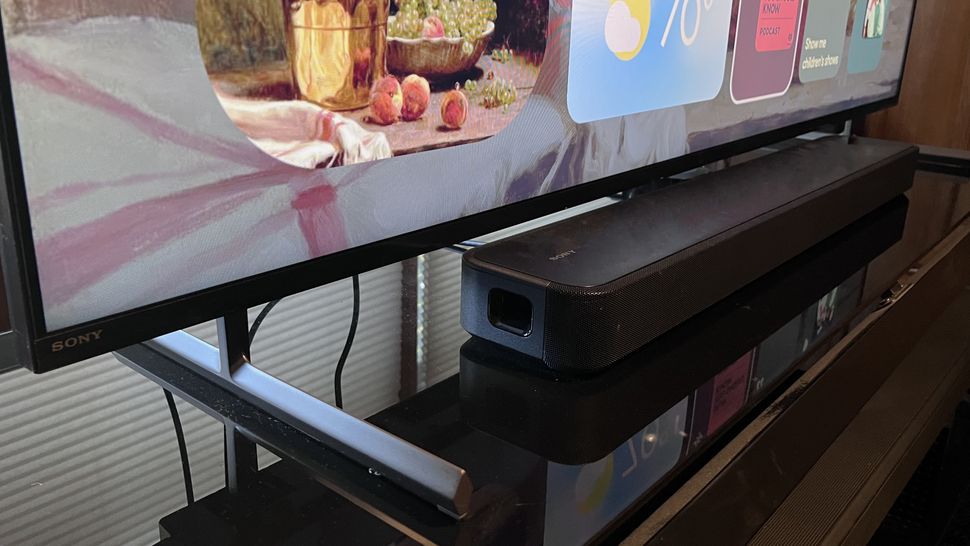 Sony X90L review: design
Slim design with adjustable-height support feet
Four HDMI inputs (only two HDMI 2.1)
Remote with built-in mic for voice commands
At 57mm deep, the X90L has a sleeker look than last year's X90K. It also has a slim aluminum bezel – an upgrade over the X90K's plastic bezel. Its metal support feet can be installed at two different heights: a low setting that puts the screen's bottom edge flush with the surface of a table or stand, or a high one that clears space beneath for a soundbar.
The X90L's side-mounted connection panel houses four HDMI inputs, including two HDMI 2.1 ports (one with eARC). There's also an optical digital audio output and an antenna input for the set's ATSC 3.0 tuner in the US, which can be used to view 'NextGen' digital TV broadcasts. Sony supplies IR, RS-232C, and Ethernet ports for connecting to home control systems, and there's also a pair of powered USB ports.
Sony's remote provides a basic set of controls and includes direct access buttons for the best streaming services such as Netflix, Disney Plus, Amazon Prime Video, and YouTube. Sony-owned services like Bravia Core and Crunchyroll also get their own buttons here, with the latter giving you quick access to a wealth of both subscription and free ad-supported anime shows. A centrally located button activates the remote's built-in mic for voice commands, which is something you may find yourself using since the control buttons Sony's remote can be difficult to locate in a dim or dark room.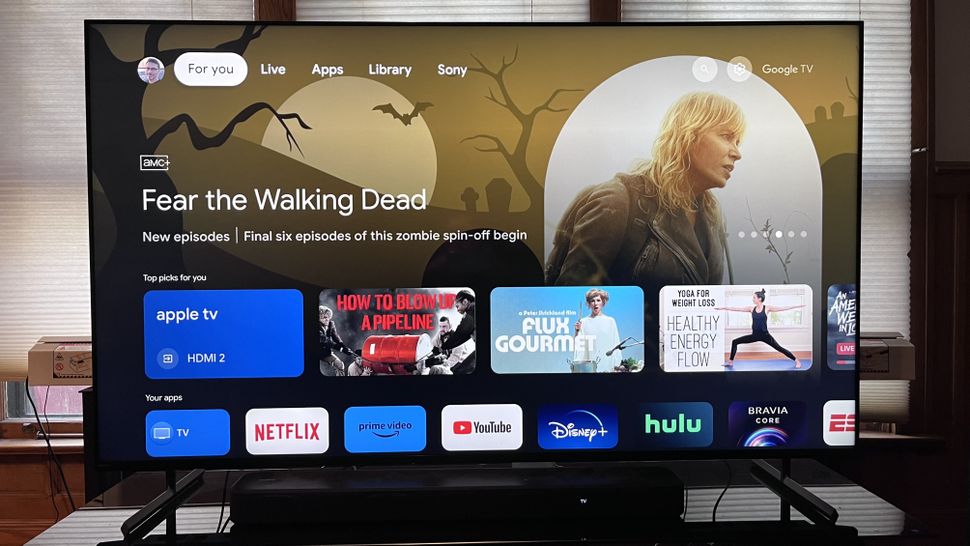 Sony X90L review: smart TV & menus
Google TV interface
Hands-free voice control; works with Alexa and Apple Home
Extensive advanced picture settings
The Sony X90L's Google TV smart interface is well-stocked with apps and can make viewing suggestions based on your viewing and browsing history when you sign in with a Google account. Another advantage to signing in is that you can connect a Google Photos library for displaying personal photos on the TV when in ambient (screensaver) mode. A Live TV option, meanwhile, lets you access a program grid of free, ad-supported channels.
Along with voice control using the remote's mic, the TV's built-in mic lets you tap Google Assistant to search for programs, adjust volume, and more, all hands-free. The Google Home app offers another TV control option, and is used to set up ambient mode and to connect other smart home devices for control through the TV.
Pressing the wrench icon button on the remote control calls up a Quick Settings menu that can be customized to make often-used menus such as picture and sound easy accessible. You can also delete options from Quick Settings to streamline its look. A Settings menu provides a complete menu of setup options, including ones for Display and Sound. The extensive advanced picture settings include adjustments for local dimming and peak luminance level, and there are also adjustments for gamma and white balance.
Smart TV & menus score: 4/5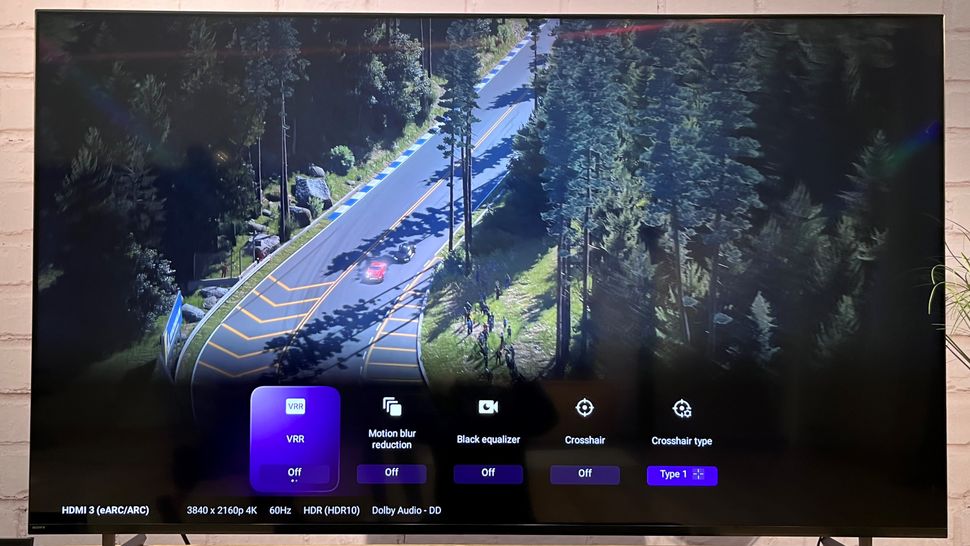 Sony X90L review: gaming
4K 120Hz with VRR and Dolby Vision gaming
High 18.2ms input lag
New Game Menu for quick gaming-related adjustments
The X90L offers a strong selection of features for gamers looking to buy one of the best 120Hz TVs for gaming. It has 4K 120Hz, VRR, ALLM, and Dolby Vision gaming support, and it's also Perfect for PlayStation 5, which means an auto HDR tone mapping and an Auto Genre picture mode will be activated when input from a PS5 console is detected. The only drawback is that support for advanced gaming features is limited to the TV's two HDMI 2.1 ports, with the other HDMI ports topping out at version 2.0.
New for 2023 Sony TVs is a Game Menu that offers quick access to settings such as VRR, blur reduction, and Black Equalizer, and there is also a range of cursor options to help with aiming in first-person shooter games. 
Input lag measured using a Leo Bodnar 4K meter in the Game picture mode was 18.2ms. That result is below-average performance compared to other TVs we've tested this year, though it's still low enough to have a positive performance impact when playing console-based games.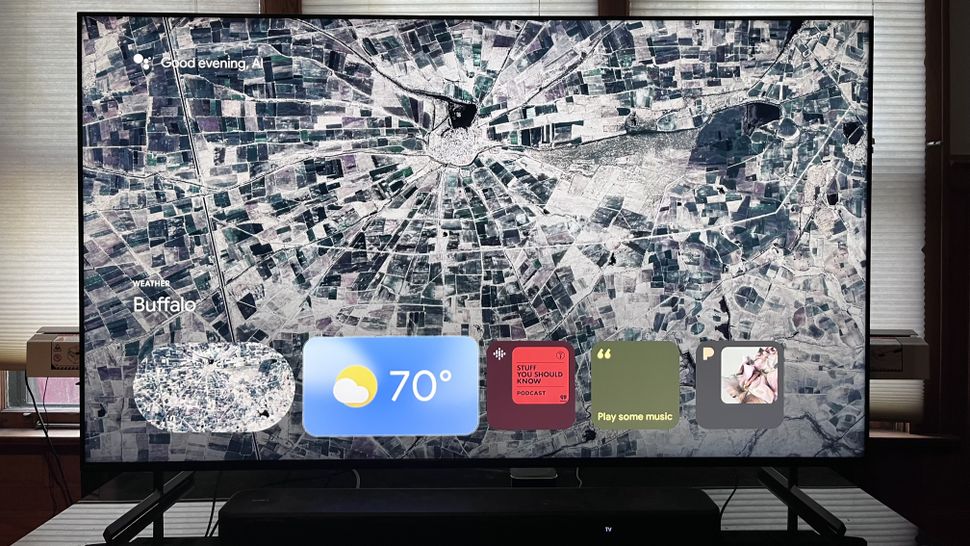 Sony X90L review: value
Costs significantly less than Sony's step-up model
Can buy budget mini-LED TVs for around same price
Very good value overall
The 65-inch Sony X90L's initial list price was slightly on the high side, but with it now selling for $1,099 in the US, it has become a much better value. You'd have to pay at least $500 more to step up to Sony's same-size X93L mini-LED model, and around the same as that for an entry-level mini-LED TV from Samsung such as the Samsung QN85C.
At its current price, the X90L's main competition is mini-LED models from budget brands such as the TCL QM8 Class and Hisense U8K series. One more competitor is the Samsung Q80C, another regular QLED model with a local dimming LED backlight that's currently selling for even less than the Sony. Like the Sony, all three of those TVs are available with 98-inch screens (100-inches for the Hisense U8K), a size tier where the pricing gets even more competitive – Hisense's 100-inch model is now selling for $4,000, for example.
Given its overall feature set, design, and performance, the 65-inch X90L is currently a very good value in the US, and it may become an even better one during the end-of-year Black Friday sales.
Note that the situation is quite different in the UK at the time of writing, where, for example, the 55-inch version of the X90L is currently selling for the same price as the LG C3 OLED TV in the same screen size. My score reflects the value in the US, but UK readers should definitely look at the LG C3 and the Samsung QN90C mini-LED TV strongly as alternatives.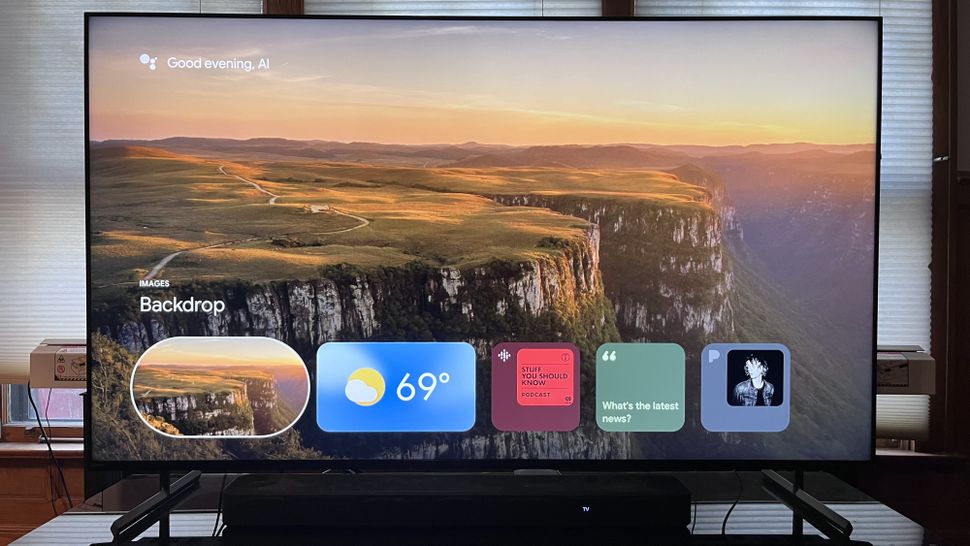 Should I buy the Sony X90L TV?
Swipe to scroll horizontally
Sony X90L TV

| Attributes | Notes | Rating |
| --- | --- | --- |
| Features | A solid overall feature set, though it lacks some of the picture and gaming features found on pricier TVs | 4/5 |
| Picture quality | Impressive all-around picture performance for a TV at its price | 4.5/5 |
| Sound quality | Good sound quality marked by clear dialogue and can also play relatively loud | 4/5 |
| Design | A slim design with an adjustable-height stand | 4.5/5 |
| Smart TV and menus | Google TV is a solid option for strreaming and there's a wide array of picture settings on offer | 4.5/5 |
| Gaming | Supports many key gaming features and has a new Game menu, though input lag is somewhat high | 4/5 |
| Value | A very good value for a TV offering this level of features and performance | 4.5/5 |
Buy it if…
Don't buy it if…
Also consider…
Swipe to scroll horizontally
Comparison: 65-inch TVs

| | TCL QM8 | Hisense U8K | Samsung Q80C |
| --- | --- | --- | --- |
| Price (65-inch): | $1,699 | $1,399 | $1,499 |
| Screen type | QLED with mini-LED | QLED with mini-LED | QLED |
| Refresh rate | 120Hz (up to 144Hz) | 120Hz (up to 144Hz) | 120Hz |
| HDR support | Dolby Vision, HDR10+, HDR10, HLG | Dolby Vision, HDR10+, HDR10, HLG | HDR10+, HDR10, HLG |
| Smart TV | Google TV | Google TV | Tizen |
| HDMI ports: | 4 (2 x HDMI 2.1) | 4 (2 x HDMI 2.1) | 4 x HDMI 2.1 |
| Built-in tuner | ATSC 1.0 | ATSC 3.0 | ATSC 1.0 |
How I tested the Sony X90L TV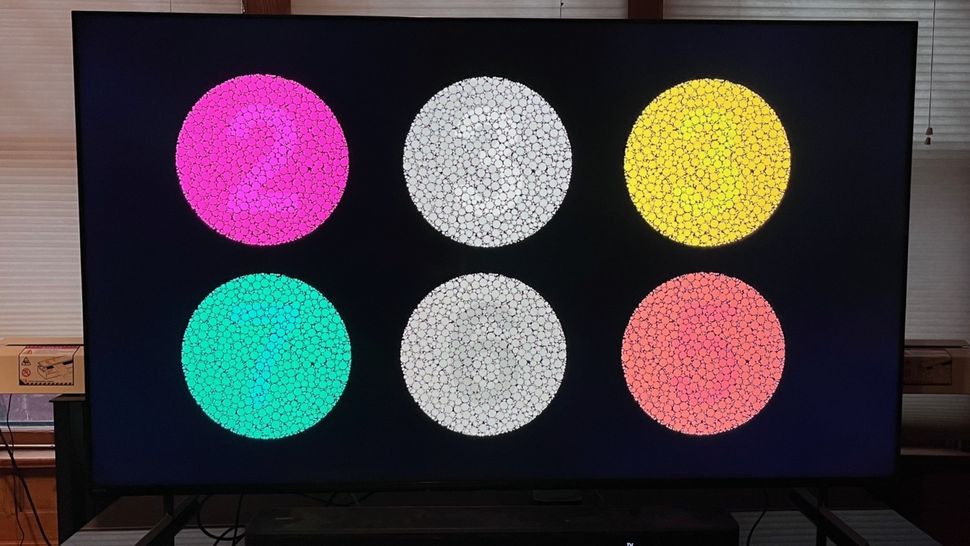 I spent about 15 hours in total measuring and evaluating
Measurements were made using Calman color calibration software
A full calibration was made before proceeding with subjective tests
When I test TVs, my first step is to spend a few days using it for casual viewing for break-in and to assess the out-of-box picture presets. The next step is to select the most accurate-looking preset (typically labeled Filmmaker, Movie or Cinema) and measure the white balance (grayscale), gamma, and color point accuracy using Portrait Displays' Calman color calibration software. The resulting measurements provide Delta-E values (the margin of error between the test pattern source and what's shown on-screen) for each category, and they allow for an assessment of the TV's overall accuracy.
Along with those tests, I make measurements of peak light output (recorded in nits) for both standard high-definition and 4K high dynamic range using 10% and 100% white window patterns. Coverage of DCI-P3 and BT.2020 color space is also measured, with the results providing a sense of how faithfully the TV can render the extended color range in ultra high-definition sources.
For the Sony X90L, I used the Calman ISF workflow, along with the TV's advanced picture menu settings, to calibrate the image for best accuracy with SDR and HDR sources. Once done, I watched a range of reference scenes on 4K Blu-ray discs that I've gathered after years of TV and projector testing to assess the TV's performance, as well as new Dolby Vision-encoded material streamed from sources like Netflix and HBO Max.
link